FREQUENTLY ASKED QUESTIONS
Have a question about Trips? See the answers to some of our most common questions about Trips below. Please contact us if you can't find the answer you're looking for. We're happy to help!
Technical support
Are you an existing Trips client who needs technical support? Click here for our support portal.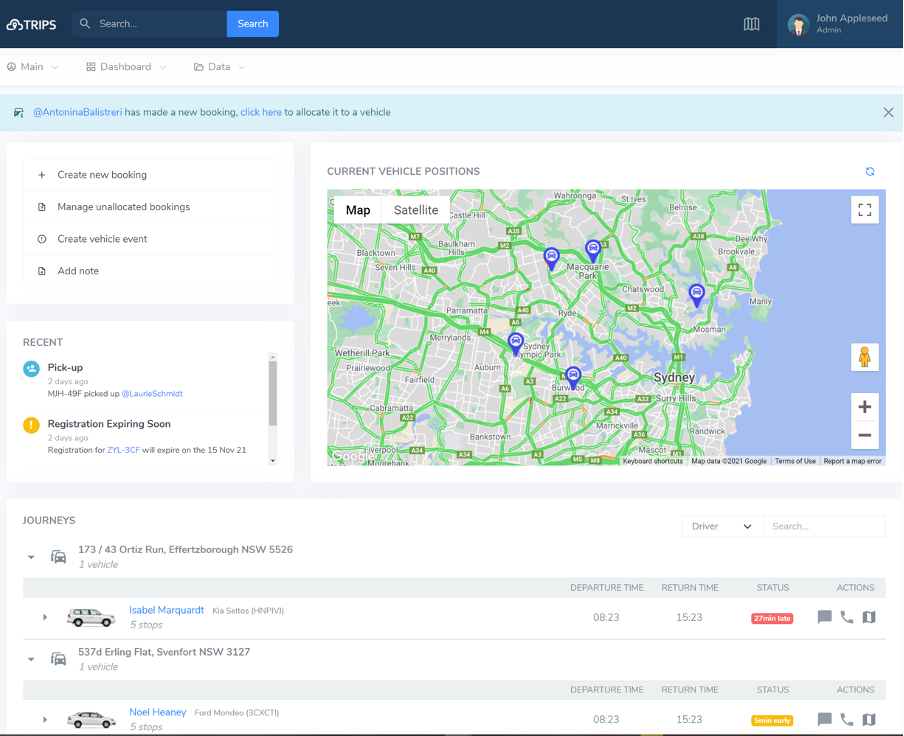 Do you need a specific tablet or phone for the driver app?
No, any modern Android or Apple phone or tablet will be suitable.
Do you need any other hardware installed for vehicle tracking?
No, all vehicle tracking is done through our Driver App.
Do you provide in-car navigation?
Yes. In-car navigation can be started from within the driver app and will use the phone or tablets preferred navigation app, Google Maps, Waze or Apple Maps.
Will the driver app work in areas with no mobile data coverage?
Yes. As long as you have internet access when you first log in, the Trips app will cache any information in the app if it loses coverage then sync the information once it reconnects to the internet.
Does your platform have the ability to print transport runs for multiple vehicles/clients?
Yes. You can print off physical runs lists, whether through PDF or e-mail.
Does Trips integrate with existing client management software or stand alone?
Both. We can integrate with any client record management system if it has an API or import function. We also have our own client record management system, CareMaster which fully integrates with Trips.
Does Trip integrate with accounting software?
Yes, we have bi-directional data integration with Xero. We also have the ability to send invoicing data to MYOB & Reckon. If an organisation uses other accounting software, we can create custom export for import into your accounting system.
I'm an office user and have questions on how to use Trips
You can search through our FAQs and Trips documentation here. You can also submit a ticket if you are unable to find an answer and one of our helpdesk staff will be in touch.
Who do I get in touch with to increase our web portal or app licences?
We're happy to help. Log into our support portal and submit a new ticket.